Glide Year Opportunities
---
Students who apply to a health professional program after they complete their undergraduate education enter what is known as the "glide year," sometimes called a "gap year." During the year long application process, students are expected to continue their involvement in the community as well as in clinical settings. Because most students have more time available once they graduate, they often look towards more comprehensive activities to become involved in. These opportunities often have extensive time commitments and require some sort of certification before students can apply.These opportunities include some allied health careers or entry level clinical involvement. A brief description of some common glide year activities can be found below. These experiences are not requirements for students entering a health profession.
For more information about what to do during your glide year(s), visit the AAMC's website HERE or click the image below to download their informational hand out. Although the information is geared towards pre-medical students, the information can be applied to many of the health professions.
EMT / ER Technician
Emergency medical technicians (EMTs) respond to emergencies and are most frequently found in ambulances. They provide first-line medical or emergency care for sick and injured people at the scene, which may be in the person's home, at an accident site or other places and while they are being transported to the hospital for care. They typically
operate in teams with one person serving as an emergency vehicle operator while the other continues to provide life-saving emergency care to the patient en route to a medical facility. A common misconception is that all "EMTs" have similar responsibilities. There are many different levels of EMTs ranging from basic EMTs to paramedics. Each level of EMT can perform different levels of care and their ability to perform certain procedures is directly related to how much schooling and training they receive. Most pre-health students obtain a basic level EMT license.
An entry level EMT can conduct basic, noninvasive interventions to help save lives and reduce harm at emergency sites. They can do everything a responder does, plus they have the skills needed to transport patients safely. In many places, EMTs provide the majority of out-of-hospital care. To be licensed as an EMT, you must take an accredited course.
A ER technician is an EMT who does not head into the field, but rather works in the emergency room. They assist medical personnel with basic medical intervention and triage. They also assist in procedures like splinting injuries.
For students who are in the Riverside area, EMT courses are available at Riverside Community College as well as at
West Coast EMT
.
Pharmacy Technician
Pharmacy technicians work under the direct supervision of a licensed pharmacist and perform many pharmacy-related functions. They refer any questions regarding prescriptions, drug information, or health matters to a pharmacist. Pharmacy techs work in a wide variety of practice settings, including community pharmacies, hospitals, in-home health care settings, long term care facilities, mail service pharmacies, managed health care organizations, and educational programs. Many pharmacy schools view experience as a pharmacy technician as a vital step in the path towards a career as a pharmacist.
In order to become a pharmacy technician, students have to study and take a certification exam hosted through the
Pharmacy Technician Certification Board (PTCB)
. Study material and practice exams are available for students interested in becoming a pharmacy technician. It is fairly common for pre-pharmacy students to obtain their pharmacy
technician's license while they are still an undergraduate so that they can start part-time work and obtain pharmacy experience while still in school. The process of certification can take over three months once you pass the exam so planning ahead is highly recommended.
Medical Scribe
Being a medical scribe puts students on the front lines of healthcare, working alongside providers and gaining patient experience with real-time charting in EMR systems. As a medical scribe students witness a multitude of patient cases every day – from sprained ankles to life-threatening injuries – giving them extensive clinical exposure that will prepare them for medical, nursing or PA school. A medical scribe is responsible for inputting patient data into Electronic Medical Record (EMR) systems. Medical scribes remove the distractions of charting for providers, allowing them to better focus on patient care. As a scribe, students are in the room while health care workers are performing procedures, examining patients, and obtaining history.
When applying to become a scribe, students apply to a centralized scribe company. Each company has a collection of hospitals that they contract with and when students apply, they choose which locations they are available to work at. When there is a need for a scribe at on of the locations chosen, the scribing company will review your application and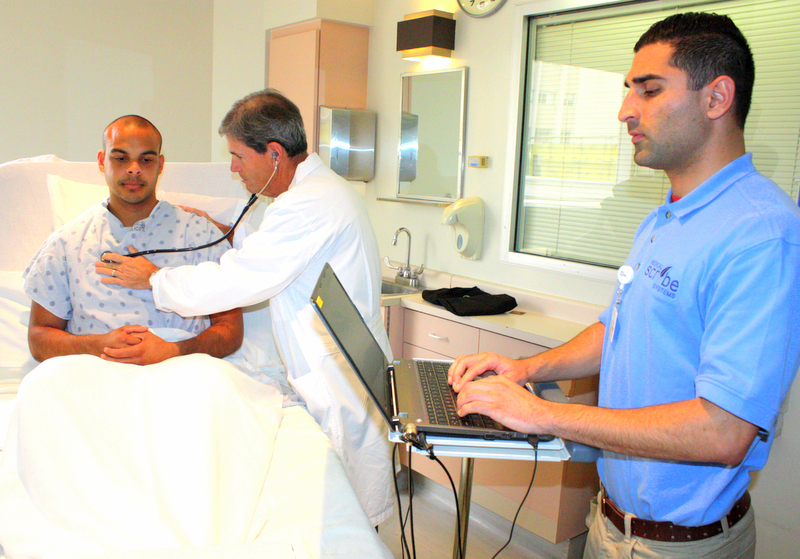 offer an interview. Although it varies slightly with every scribing company, generally speaking, once a student is interviewed and hired by a company they then have to go through a training process that can last for a few months. During this time new scribes are taught medical terminology and procedures as well as introduced to the electronic medical record.
For more information on becoming a medical scribe, please visit one of the national scribing company's websites below.
City Year
City Year is an educational, non-profit organization that unites young people of all
backgrounds for a year of full-time service. As tutors, mentors, and role models, City Year corps members make a difference in the lives of children; transforming schools and communities in 25 US cities. City Year partners with at-risk schools to help bridge the gap between what their students need and what the schools are designed to provide. In doing so, City Year volunteers help students reach their full potential and graduate high school in communities all across America.

They are currently offering positions across the country to talented young people ready to serve and grow. They are paid bi-weekly and receive a $5650 scholarship.
National Peace Corps
National Peace Corps Association (NPCA) envisions a united and vibrant Peace Corps community - one that is mobilized to create social change. To achieve this vision, NPCA champions a lifelong commitment to Peace Corps ideals. That means we support all of you - current and returned Peace Corps volunteers, current, and former staff, host country nationals, family and friends - in your efforts to create a world that reflects these ideals. NPCA has three specific goals that advance this mission:
Help the Peace Corps be the best that it can be
Empower members and affiliate groups to thrive
Amplify the Peace Corps community's global development impact
.
Nursing Assistant (CNA)
Nursing assistants help patients of all ages perform the most basic daily tasks. They work under a nurse's supervision, and since they have extensive daily contact with each patient, they play a key role in the lives of their patients and in keeping the nurse up to date on vital information about the patients' conditions.

Nursing assistants work in nursing homes, assisted living, Hospice, hospitals, community-based long-term care, correctional institutions, and other long-term care settings.

Nursing assistants provide assistance with such tasks as: dressing, bathing, feeding, making beds, taking vital signs, assisting with mobility, etc.
Nursing assistants must complete a state-approved education program in which they learn the basic principles of nursing and complete supervised clinical work. These programs are found in high schools, community colleges, vocational and technical schools, hospitals and nursing homes.In addition, nursing assistants typically complete a brief period of on-the-job training to learn about their specific employer's policies and procedures.A registered nurse generally teaches the classes. The length of training depends on the program. The classes offer the basics of what to expect with the job; however, this is a career in which skill levels and confidence dramatically improve once the nursing assistant becomes involved in the daily routine of actual care-giving.
Nursing Assistant Training in Southern California sponsored by the RedCross